Guiding is more than showing stuff!
What a private tour guide can do? I can guide and assist you whenever you require to discover the beauty of Egypt.
This doesn't always mean visiting archaeological sites. It can include visiting the countryside. Getting in touch with the local population and learn their way of life. For a tourist, this is not always easy. You don't know who to turn to and you risk falling into the hands of people who don't always have the best of intentions. If you ask me to show you the "real" Egypt I can introduce you to personal acquaintances or family members who own their own farm.
In most cases, if you book an excursion with a representative of a tour operator, you will spend some time of the trip in a souvenir shop or any other venue which has no relation whatsoever with the theme of the excursion.
Having m as your guide means that we will spend our time at the sites or points of interest you have decided on. If you are interested in souvenir shopping, If you really want to, I will take you to a decent shop where you can find quality without being ripped off. The most looked after items are papyrus or alabaster vases, cups and vessels.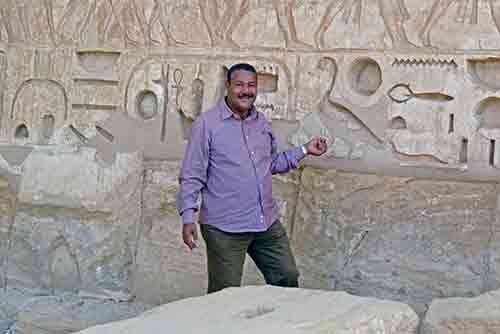 Here's a list of points of interest we can visit. It is by no means limited:
As you can see, this is only what's to be seen in Luxor. I didn't mention the temples of Kom Ombo, Dendara, Abydos or Edfu. Which are all in the vicinity of Luxor.